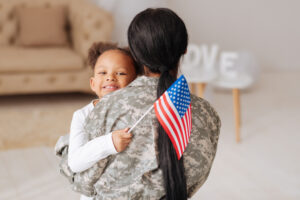 In families where either or both spouses or parents are serving in the military, family law issues can be particularly complicated. It is essential to have a family law attorney who is experienced in working with military families and the unique legal aspects involved.
Jacksonville family law attorney Beth M. Terry, P.A., has been serving members of the military in Northeast Florida for more than 25+ years. She has proven results working with military members and their spouses stationed at the Naval Air Station Jacksonville (NAS Jax), Mayport Naval Station, Camp Blanding, and other military bases.
Some unique challenges that military families face when it comes to family law includes:
Military Divorce or Paternity matters

Military Child Custody, Time-sharing or visitation, and Parenting Plans

Division of retirement benefits and Qualified Military Retired Pay Division Orders 

(similar to QDRO's)
Spousal Support (alimony) and Child Support
Military Health Insurance and other benefits
Contact the Jacksonville family law office of Beth M. Terry, P.A., today to get comprehensive legal support for your military family.
DISCLAIMER:  The use of the Internet or this form for communication with the firm or any individual member of the firm does not establish an attorney-client relationship. Confidential or time-sensitive information should not be sent through this form.