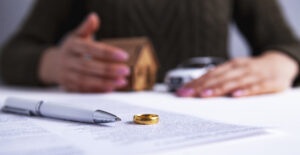 When a marriage dissolves it is important to have legal representation making sure you avoid making any missteps in the divorce process. The law office of Beth M. Terry, P.A., brings zealous, assertive representation for you and your children's rights, as well as ensuring your futures. Serving clients in Jacksonville and Northeast Florida for over 24 years, she has built the experience you need to protect your rights.
Offering a comprehensive law practice, Beth M. Terry, P.A., uses her knowledge and experience to arrive at favorable decisions regarding-
Interests of the Children

Child Custody and Parenting Plans

Financial Future

Alimony

Child Support

Division of property, complex assets, and debts

Qualified Domestic Relations Order (QDRO)

High Net Worth Divorce

Military Divorce

Same-sex Divorce

Alternative Solutions
Serving throughout Jacksonville and Northeast Florida, the law office of Beth M. Terry, P.A., can help guide you through divorce proceedings that seem overwhelming and difficult. Having a family law attorney with more than 24 years of litigation experience on your side can provide a measure of peace of mind through a complicated process. Contact the office today to schedule a consultation.
DISCLAIMER:  The use of the Internet or this form for communication with the firm or any individual member of the firm does not establish an attorney-client relationship. Confidential or time-sensitive information should not be sent through this form.